OTHER HEAT PRODUCTS
SWEDISH CANDLES
Our candles are made from Douglas Fir and give off a pleasant outdoor aroma as they burn. An added advantage is that they also help keep those pesky summer insects at bay. Sized at 500 mm high by 150-200 mm diameter, these candles are prices at £19.95 ea or 3 for £50. (See our information on delivery) Each one comes with 2 firelighters and additional firelighters and kindling are also available.
NATURAL FIRE-LIGHTERS
These packs of eco-friendly fire-lighters are ideal for indoor use - price £5.00 for 400 g. They don't smell and don't leave any paraffin-based residue on your hands. Just one coil lasts for around 10 minutes and will soon get your fire burning - especially if you use our scratchings. A 400 g pack is typically a month's plus supply and when you're getting near the end of the pack it's a good prompt to order some more firelighters and logs.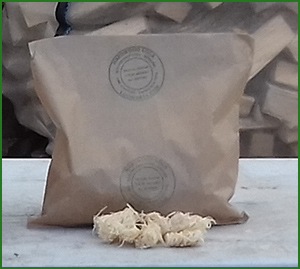 CHARCOAL - £13.00 a 6.5 kg bag
Our British charcoal is produced from the coppicing of sustainable woodland (this method of woodland management has been used for more than 6000 years). Most charcoal on sale is imported and produced from tropical and mangrove forests, with little or no concern about sustainability. Our charcoal is easy to light and provides rapid heat, allowing you to start cooking after only 10 minutes. No fuels or firelighters are needed - simply wrap some charcoal in newspaper and light.
KINDLING


We now offer 7 kg nets of what we call 'scratchings' - price £6.00. These are handy waste pieces from our hardwood logs and are excellent for getting your fire going quickly and efficiently. They're much better than soft wood kindling.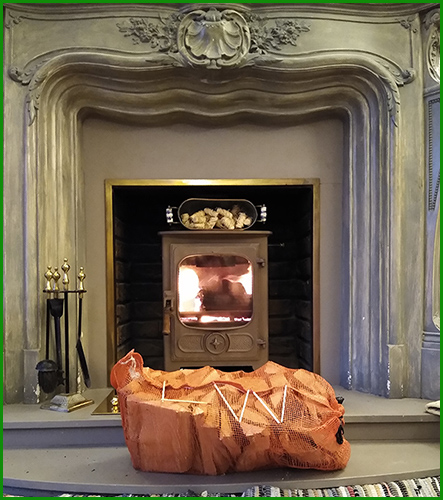 BAGGED COAL

We offer smokeless coal conveniently packed in 20 kg plastic sacks - price £12